Arrange a free, no obligation consultation
CONTACT US
The Experts in Solving Women's Hair Loss Problems

We understand how you're feeling
We understand how distressing it can be for women to lose their hair. There are many types of hair loss and whether as a result of Cancer, Alopecia, Trichotillomania, or because you have naturally thinning or receding hair, they can all affect every aspect of your life.
We are the UK's leading female hair loss specialists and have devised a bespoke hair solution that will help restore your confidence, enhance your beauty and help you be the person you want to be.
Our Enhancer System is natural, non-surgical, easy to care for and loved by thousands of women.
"The Enhancer is an absolute life-saver! It has improved my personal quality of life and my self-esteem. Hair-Solved's product and overall service is first class. The staff help, reassure and promote positivity in any way possible. It's always a friendly, homely environment." Gemma, Client since 2010.
The natural solution to female hair loss
A light, flexible mesh applied directly on your scalp and 100% real hair extensions, create the look and feel of natural hair.
Our innovative Enhancer System can add volume to thinning or patchy hair or provide the perfect solution for total hair loss.
It's light, durable, long-lasting and secure, enabling you to get back to doing all the things you used to, without worrying about your hair.
"It's such a relief to get up in the morning without having to worry about your hair - just brush it and go. I don't even think about it any more - there are so many more important things in life." Laura, Client since 2007.
We're here to help you... so please get in touch today!
Read More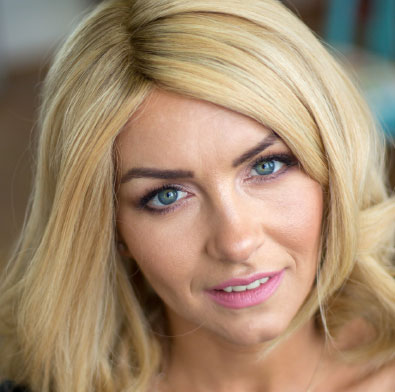 "Having a full head of natural and soft hair made me feel happy straight away."
Joanna
Joanna has been a Hair Solved client for seven years and our Enhancer System has proved to be a wonderful solution to her Alopecia Areata. As she explains "Having the system on makes me feel like myself again. It's changed my life!"
More Stories
Our

Salons

Hair Solved has four salons around the UK, so the perfect solution to your hair loss is closer than you think.
Contact a Salon