HAIR LOSS TREATMENT & REPLACEMENT LONDON
beautiful and natural bespoke solutions
NATURAL, BREATHABLE AND BEAUTIFUL

THE LEADING FEMALE HAIR LOSS CLINIC IN LONDON

At Hair Solved London, we know how distressing it can be for women experiencing hair loss. Whether as a result of alopecia, stress, chemotherapy, trichotillomania, natural thinning or menopause, we have developed our bespoke hair system so you need never feel worried, anxious or self-conscious about hair loss again.

Our Enhancer System is a light, breathable and natural alternative to hair transplants, hair replacements and hair restoration. Each system is bespoke and tailored to your needs and your style – so you can have the hair you choose.

Our experienced technicians will apply a light, flexible mesh to your scalp and 100% real hair to give the look and feel of natural hair. Our colourists and stylists will then create whatever look you desire – just like you would your own hair. The system fits securely, so you can wash your hair, shower and even go swimming as normal.

For thinning hair, we use 100% real hair extensions that are discreet and easy to care and and that add volume or length to complement your own hair. Whether you have partial or complete hair loss we can design a system that is right for you.
WHY HAIR SOLVED LONDON?
We have emerged as the leading female hair loss specialist in London and can help you achieve the look you desire, regain your confidence and help you feel like you again.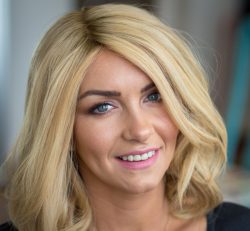 "I've been a Hair Solved London Client for almost nine years now. I did try a wig before, but that wasn't right for me. I was in my late twenties and a wig felt unnatural and made me feel self-conscious." says Joanna.
I remember the day I had my system – everyone in the salon made me so comfortable and having a full head of natural, soft hair immediately made me feel myself again."
Our London team will work closely with you to ensure you get the beautiful and natural results you're hoping for. Whether you currently have a system in place or are at the very beginning of your search for a solution, we can help you with complete or partial hair loss, thinning hair and hair fall.
Our London salon has a light and airy salon space or private rooms and we are conveniently located with public transport links from central London. Don't hesitate to get in touch for your free, no-obligation consultation today.
OUR LONDON TEAM
"It's so rewarding to see our Clients leave here happy within themselves again." Jenna, Salon Manager.
Get In Touch