Team

Work
A career with the hair loss specialists
Join our amazing team of specialists

Making an amazing difference
As a hair stylist, you know it's your job to make people look good.
But a career with the UK's leading hair loss specialists will take your role to another level. You'll be working with Clients who have often been on a very emotional journey because of the impact of female hair loss. Not only will you learn about our innovative hair loss treatment but you will help women find their confidence again. What could be more rewarding?
As part of the Hair Solved team, you won't simply be changing people's hair – you'll be changing their lives.
Whether you're eager to train as a hair loss stylist or technician, transfer your skills from a traditional salon, or are a seasoned professional, select a location to view vacancies that could transform your day to day working life and your future career.
Make a real difference to peoples lives
Changing women's lives is what makes us tick. When our technicians and stylists have worked their magic and reveal a client's new hair to them, there are often beaming smiles and tears of joy. For many women it's a life transforming moment; they feel happier, more attractive and rediscover their confidence.
Imagine how rewarding it will feel to be part of a team that's making such a difference to women with all types of hair loss.
"When I came for my interview, I knew this was the place for me. I love being part of something so life-changing." Georgia, 23.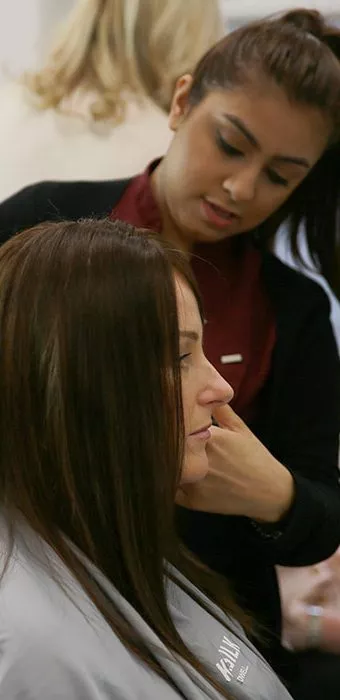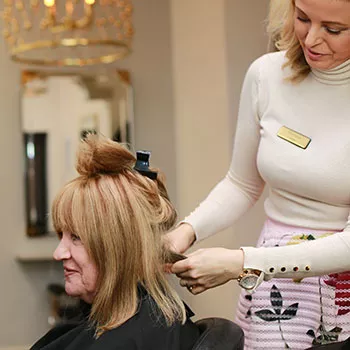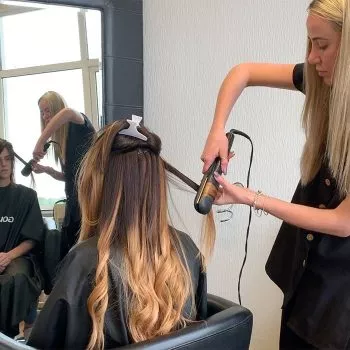 Don't just take our word for it ...
A career with Hair Solved offers a unique new challenge, with great opportunities for personal development and career progression. We are committed to providing training to enhance your skills, so that you can exceed your client's
expectations and change their lives.
Our salons are vibrant, enjoyable and inspiring environments where you can thrive in the company of fellow technicians and stylists and use your technical expertise, creative flair, and care to make life enhancing transformations.
But don't just take our word for it. Find out from Georgia, Jenna and Dionne what it's really like to be part of the Hair Solved team.
Committed to Training
Seema, Hair Solved Stylist
"At Hair Solved our team benefit from all the latest training and techniques. The hair industry is always changing and it's nice being in a busy salon and still having the opportunity to keep learning and to better yourself."
Committed to Clients
Georgia, Hair Solved Manchester
"Coming to the salon can be very overwhelming for clients at their first appointment as they are not sure what to expect, so it's always good to be able to assure them that we are confident in what we do, and their hair is going to look amazing once its finished. "
Committed to Training
Holly, Hair Solved Trainee
"It is wonderful being a trainee at Hair Solved as everyone is so helpful. The team all have their own different ways of designing and creating systems, so I really feel that I learn something new every day"
Teamwork
Laura, Hair Solved Salon Manager
"We are always trying to find new ways of making the system look as natural as possible and are fortunate to have Clients who are happy to be models. My favourite thing is when the girls come together to brainstorm ideas about what we can do to make our Clients happier. It's a real pleasure to work with staff that you respect and respect you."
Committed to Clients
Georgia, Hair Solved Manchester
"I enjoy learning new techniques as I like a challenge and to see the results in my work. When I see how happy my clients are after having their system fitted for the first time or even just trying a new style or colour, it makes me happy too. "
Hair System training on a dummy head
Hair System micro beads being attached
Hairdressers belt, scissors, combs and equipment
Female with long hair blow drying clients hair
Top