Hair loss treatment & replacement Glasgow
Providing natural bespoke solutions
Book Your Free Consultation Now
Let Your Confidence Shine Once Again!
Visit Us
Glasgow Studio
21 Westminster Terrace, Glasgow, G3 7RU
Tuesday to Friday 10.00 – 18.00 & Saturday 09.00 – 17.00
Call 0141 248 7428
The salon is well connected with local transport links and convenient parking nearby. Click here for directions and parking information.
Online Consultations Available

You can also use our form to book an online consultation. For most people, this removes the need for coming into our salons until you are ready to go ahead with your system when we will ask you to come in for a colour match.
Online consultations take between 30 and 40 minutes. One of our senior team will talk you through how our Enhancer System can work for you, answer any questions and provide you with a quotation.
All consultations whether in person at one of our salons, or online, are completely free of charge and give you the opportunity to find out everything you need to decide whether our Enhancer System is the best solution for you.
Get Directions
Call Us
General enquiries Freephone 0800 065 4501
(Monday to Friday 10.00 – 18.00)
(Saturday 09.00 – 17.00)
Or Email Us
hello@hair-solved.com
Designed exclusively for women and tailored for you
Our Solution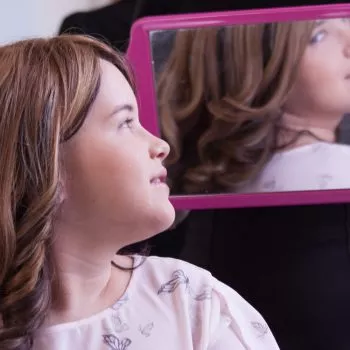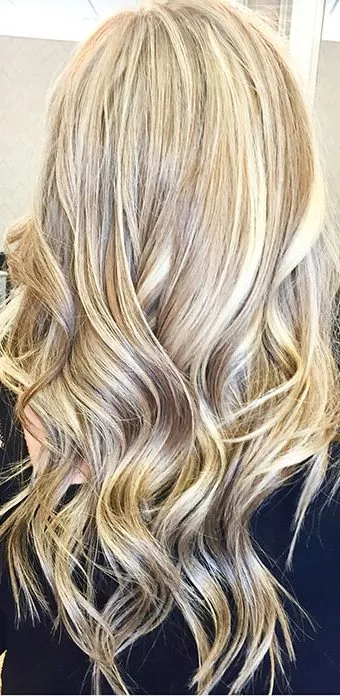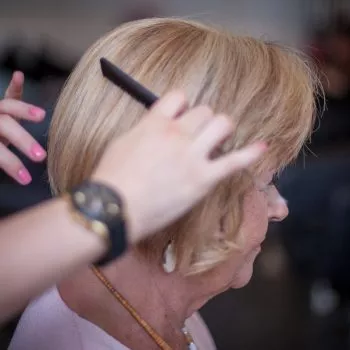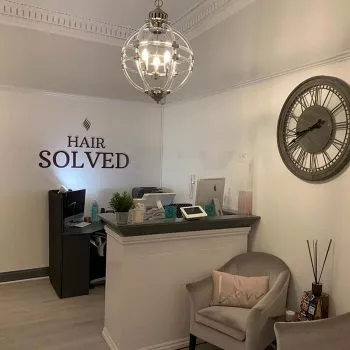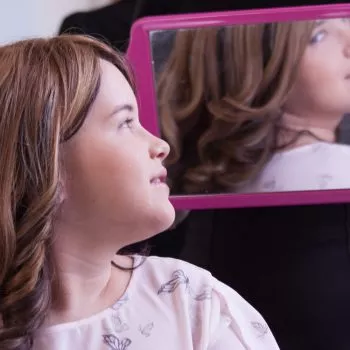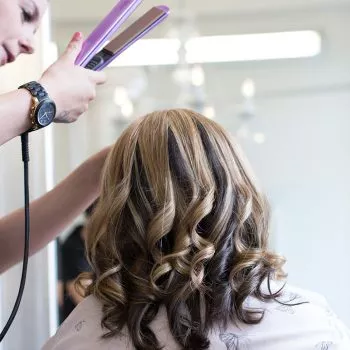 The leading female hair loss salon in Glasgow has moved
We've moved into our new home, renovating our beautiful old building into private rooms and a bright airy salon area.
Our talented team can't wait to give you the beautiful hair you've always wanted so come and visit us soon.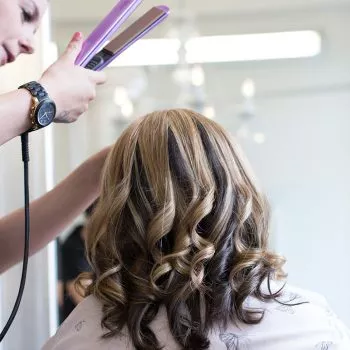 Our Glasgow Feedback
Laura, HairSolved Glasgow Client
"My name is Laura and today I had my fitting of the enhancer system at your Glasgow premises, to say I am extremely happy is an understatement. From my first initial contact via what's app video call where, I felt very comfortable and relaxed everything was explained to me in detail and in a manner, I could understand with no pressure. "
Laura, Glasgow Client
"My second visit face to face, I was late as I got lost this was due to my own nerves and anxiety, I really did struggle being out in public with my hair as it was, the staff were very understanding and welcoming and again the consultation was excellent talking through all options best suited to my needs, the process the aftercare and different options available, colour consultation I was dreading as I can be so indecisive however this was made very easy the staff were brilliant and did not overwhelm me at all. "
Laura, Client HairSolved Glasgow
"My third visit was for my fitting, I was nervous, excited again absolutely no need to be the minute I walked through the door I felt so welcome, and at ease. Again, everything was explained step by step as the process began. I felt like a whole new woman at the end. "
Laura, Glasgow Client
"I have ongoing health issues which cause hair loss and prevents regrowth, overtime this has had an effect on my self-confidence and my moods becoming reclusive and very irritable. Today that has been changed I walked back to the bus station with a new confidence and my head held high, I cannot thank the staff enough. My son commented that I not only looked younger I also looked and appeared happier I was youthful and friendly. "
Jennifer, HairSolved Glasgow
"Having suffered from Trichotillomania for 19 years, this is the first time I have ever felt like myself. It has changed my life and I can't thank the girls enough."
C. West, HairSolved Glasgow Client
"I would highly recommend the services of hair solved in Glasgow. They are true artists and they helped me through a very difficult time by creating an amazing hairstyle for me. They are all very caring, friendly and sensitive. I will definitely stay as a customer."
Mary, HairSolved Glasgow Client
"Visited the new premises of the Glasgow Salon today. The Salon is beautiful and the staff were welcoming and friendly as usual. Special thanks to Lauren who, once again, did a great job on my hair."
Carol, Hair Solved Glasgow.
"I am so happy with how I was made very welcome from the receptionist to the technician and the stylist they all made me feel very much at ease. You're in a private booth so there is loads of privacy and most of all I am delighted with my hair. Thanks to all the team."
Olivia's Mother, Hair Solved Glasgow.
"Delighted with the quality of care my daughter has been receiving for many years. The staff have gone to exceptional trouble to make Olivia feel comfortable and cared for, ensuring she has the best outcome possible and beautiful hair. This has made a huge difference to Olivia's lifestyle, happiness and confidence and we are so appreciative of this."
Sandra, Hair Solved Glasgow.
"Looking back I wasted a lot of time in my life because of my hair loss. Not wanting to go out not wanting to do anything. But this system has given me so much confidence!"
Hair Solved Glasgow Client
"I had a fabulous experience today, the salon is simply stunning!"
Marilyn, Hair Solved Glasgow.
"I would wholeheartedly recommend the Enhancer System. It certainly has enhanced my life in so many ways. Each and every person who works at Hair Solved is amazing. They are so incredibly experienced and they make visiting the salon a real treat. The System itself is a real lifesaver, now I have beautiful hair and so much confidence."
Natural, Breathable and Beautiful

The leading female hair loss clinic in Glasgow
At Hair Solved Glasgow we understand how distressing it is for women who lose their hair. There are many reasons for hair loss and its more common than you might think. Whether it's a result of chemotherapy, stress, alopecia, trichotillomania, menopause or natural thinning, hair loss can affect every aspect of your life. With our bespoke hair system, you need never feel worried, anxious or self-conscious about hair loss again. Our cutting-edge Enhancer System is a light, breathable and natural hair loss solution – designed as an effective pain-free alternative to hair transplants, hair replacements and hair restoration. Each system is bespoke and tailored to your needs and your style.