WE DON'T JUST TRANSFORM WOMEN'S HAIR LOSS WE CHANGE LIVES

Marion's Scarring Alopecia Story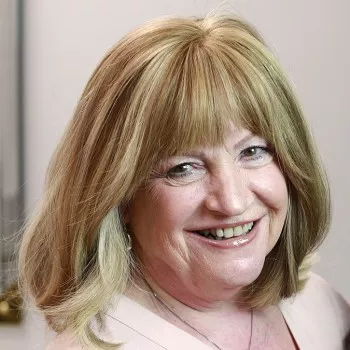 "It is fabulous and when my daughter, who experiences similar hair loss saw my system, she had one too. I am so grateful we have both been able to alleviate all the negativity and anxiety of hair loss."
My alopecia seemed to develop slowly and for some time I believed it was part of the ageing process.
Gradually I became aware that I was unable to style my hair and became increasingly anxious as my fringe slowly disappeared and my parting widened. Ultimately, I had very little hair affecting a large part of my crown. I had to persist to get a proper diagnosis which involved seeing 3 dermatologists which did delay matters by 12 months. Ultimately, I was diagnosed with scarring alopecia which unfortunately, also seemed to be affecting my daughter as well.
My hair loss had a negative impact on my confidence and how I felt about myself. I felt unattractive and as if it was an inevitable part of the ageing process. I feared becoming a bald, old lady! Whenever speaking to someone new, I would watch to see their gaze shift to my bare scalp leading to feelings of shame and embarrassment. I would decline any suggestion of photographs but when they were taken, I was forced to confront the reality of how little hair remained.
Initially, I went through the trauma of trying on a multitude of wigs which I hated. As a ballroom dancer, the heat that is generated from wearing a wig was unbearable. Research led me to Hair Solved where the environment is warm and welcoming.  It was a shock to realise that all the customers have some sort of problem with hair loss which of course helped me to realise that I was not alone with alopecia. The most helpful aspect of all (and there were many) was speaking to another customer quite randomly. She was extremely positive and suggested I was about to make an important decision which I would not regret. I recall also thinking of how beautiful her hair looked!  At Hair Solved it seems as if customers almost become "family members".
My new system is fabulous. It feels entirely normal, so different to a wig and I love the colour. Since having it, I receive so many comments about how much younger I look and how pretty I am – and I am so much more confident! Every member of staff I have had contact with has been so helpful, checking out at each visit if I am happy with my hair. I have been delighted in the way that they have been prepared to tweak my style on a number of occasions.
My 40 year old daughter had been experiencing similar hair loss and when she saw the transformation after receiving my new hair, she decided also to avail the services of Hair Solved in time for her wedding. She had her first system fitted yesterday and I so look forward to watching her being able to grow in confidence with her new appearance. I am grateful that we have found a hair system that helps to alleviate all the negativity and anxiety of hair loss.   
Read more about hair loss from Alopecia
Talk to us