WE DON'T JUST TRANSFORM WOMEN'S HAIR LOSS WE CHANGE LIVES

Esther's Story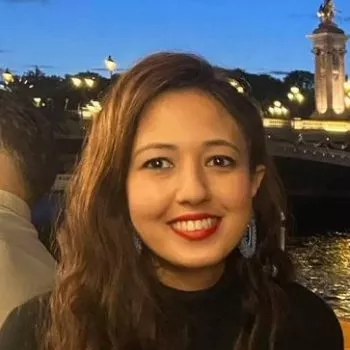 "I am so glad I have the system. I can't go back to a world where I don't have hair."
Esther has been a Hair Solved client for almost ten years.
She was diagnosed with blood cancer at age 16 and endured six months of chemotherapy and three months of radiotherapy – losing her hair in the process.
Hair loss is a typical side effect of intensive cancer treatment. But untypically, Esther didn't really care about losing her hair.
"When I lost my hair the first time my mum and sister cried, but I didn't. I wasn't one of those women who get incredibly sad about losing their hair. I didn't really care. I'd rather live and survive cancer than care about my hair. And a year later, my hair did grow back."
At the age of 19 Esther's cancer returned. After a year of unsuccessful treatment, doctors told her that a bone marrow transplant was her only hope. Sadly, her brother and sister were incompatible as donors. What's more, being mixed race added to the challenge of finding a suitable match.
"We had one chance in several million of finding a match, but eventually we did. I had my transplant and left hospital in 2012."
While receiving treatment for a second time, Esther also lost her hair for a second time. But again, she was just very happy to be alive. Assuming her hair would grow back as it did before, Esther decided to buy a 'bob cut' wig as a short-term solution.
"So I got a 'bob-cut' wig, but my hair never grew back. You have to bear in mind that a normal person has 10 shots of chemo and I had about 70 shots. I was a very sick patient."
At the age of 22, as Esther tried to get on with her life and embrace the experience of being a university student, her hair loss became a bigger issue.
"I wanted to meet new people and enjoy the experience as a young woman at university, but wearing a wig was starting to really bother me. I would put it on in the morning and take it off at night. If I took my wig off at night and a friend knocked on my door, I would quickly have to rush to put it back on. Apart from not being very practical, I was getting frustrated by the fact that my hair style never changed."
Esther decided to try and find a more permanent solution for her hair loss.
"I looked everywhere on the internet for hair solutions, especially for women with Caucasian hair and then I came across Hair Solved. I met Sally at the Hair Solved salon in North London and she became a friend from that point on."
Almost a decade later, Esther is still enjoying the difference her bespoke Hair Solved system has made to her life.
"Over the years I just keep coming back and getting my hair done. Every two years I get the system replaced and I have it tightened every five to six weeks. The problem with the wig was I had to take it off every day. I don't have to take my Hair Solved system off. I can swim with it. I can sleep with it. I can shower with it. It is almost as if no one needs to know."
What Hair Solved has done for me as a young woman has been completely life changing. I'm already thinking that if I get married one day, Sally must come to my wedding to help me with my hair."
Cancer Treatment and Hair Loss
Cancer treatment can be daunting and upsetting but Hair Solved can be here for you every step of the way. To find out how we can support you before, during and after treatment read more about our Chemotherapy Hair Loss Plan
Talk to us