"I change lives by transforming hair loss"
Dionne joined our Hair Solved Salon in Manchester in 2016 and in 2019 was promoted to Assistant Salon Manager in recognition of her hard work and commitment to clients and the rest of her team. She managed to find a little time do a "Five Minute Interview" with us and share why she loves her job so much.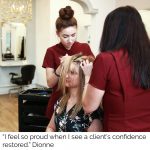 How did you come across Hair Solved?
I actually found the job advertised on Indeed and was very curious. I researched Hair Solved on social media and knew this was what I wanted to do.
What surprised you the most when you first started working at the Salon?
When I first saw the Enhancer System I was utterly amazed by the transformations, I couldn't wait to be trained up so I could change people's lives too.
What do you like about the Enhancer System?
I love the fact that every system is completely different and bespoke. The System is designed to meet the client's needs and suit their own individual taste and style. Also the Enhancer System is suitable for all types of hair loss from thinning to complete hair loss and I have learned so much about all the different causes from Alopecia to hair loss caused by chemotherapy.
Has your role changed?
I have worked for Hair Solved for 3 years and I started as an Apprentice. I enjoyed my training and have learned so much during my time at the Salon. I was so proud to be promoted to Assistant Manager last year and I am looking forward to continuing to work with my clients, learn new skills and techniques and share my knowledge with new members of the team.
Finally, do you have a favourite product?
I do! My favourite product is the Black Caviar 12in1 Multi-Action Hair Cream that can be used on damp, towel dried hair. It gives shine, smoothens hair, works as a detangler and it is Anti-Frizz. Amazing. I also really love the Balayage freehand hair colouring technique. It is such a soft blend of colours and the technique is so unique because it gives a really blended natural look with no harsh lines.
Thank you, Dionne!
Hair Solved Manchester
Our Manchester Salon opened in 2007 and we are proud to have been serving clients across the North West for over 13 years. In 2019 we moved to our beautiful new premises where we are able to welcome clients in to our stylish, comfortable and welcoming Salon. The Manchester Team are highly trained and have many years' experience creating systems for women with all types and causes of hair loss from Alopecia to Trichotillomania, menopause to hair loss caused by cancer treatment. As a team we are committed to training and development and staff love to learn new colouring and straightening techniques such as the Kerasilk Straightening Treatment. We are also very proud that we can offer opportunities to young people joining us for work experience. And of course, we are very proud of Dionne and the commitment she shows to her colleagues and clients.
Return to blog