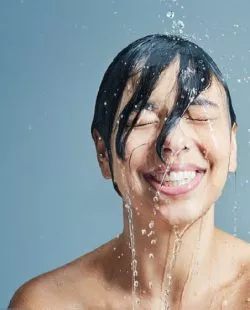 The simple answer is yes you can wash and style our hair system! As Agnes a client at our Glasgow Salon said, "You can sleep in it, you can shampoo and condition it and you can blow dry it. Without this system I don't know what I would have done."
In fact, if you have an Enhancer System or extensions, it is really important that you wash your hair regularly. Washing maintains its condition, prolongs the life of the hair and keep it looking its best.
It's one of the best things about the hair system.
Caring for your Enhancer System is really simple. Many of our clients tell us, one of the best things about the hair system is that you can wash it. And just as importantly style it exactly as you would your own hair.
We recommend washing your hair at least once a week, but no more than three. One tip we always give to our clients is to remember that the less you tangle your Enhancer System, the quicker and easier it will be to comb and blow dry.
If you prefer, you can leave your system to dry naturally. Then use straighteners and curlers to style your system exactly the way you like it.
You can care for your Enhancer System just as you would your own hair. It's so easy and just one of the many reasons our clients say they love the system so much. Being able to wash and style the hair system gives clients a sense of control and for many clients helps them regain their femininity.
"I have more confidence in my appearance and life is so much easier in every way. Simply because I don't have to think about my hair. I just wash it once a week and brush it through every morning. And I am ready to go!" Judy Dodd, Hair Solved Manchester Client