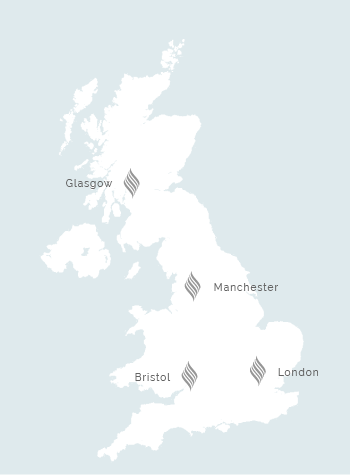 Hair Solved have hair loss studio locations in Manchester, Bristol, London and Glasgow. So your solution to female hair loss may be closer than you think.
We want to be accessible to all.
We want our Salons to be accessible to everyone experiencing some form of hair loss or hair thinning. No matter where you live or the cause of your hair loss. It is why our esteemed Enhancer System was developed, to meet our clients hair loss needs without the needless risk of surgery. It is also why we try our best to open our Hair Solved studios in every region of the United Kingdom. We don't want you to have to add another expense, such as a long trip to London, to the cost of treating your hair loss problems.
Where can you find us. Our hair loss studio locations.
Where can you consult on your issues with our hair loss experts? Our Head Office is in Manchester and was opened in 2007. But we wanted to offer our hair loss services and bespoke hair loss treatment to women across the United Kingdom. Therefore we have opened other hair loss studios in the following locations:
Our hair loss studio locations are easily accessible and welcoming.
No matter where you live you are pretty close to one of our Hair Solved, hair loss studio locations. This means you can contact one of our female hair loss experts to get an individual consultation at the studio closest to you. Each of our studio locations is easily accessible by car or public transport and they are all beautifully decorated and welcoming.
At each of our hair loss studios you will find an expert team who understand all aspects of female hair loss. From Alopecia to Trichotillomania, to hair loss caused by illness or the menopause we can help. Offering advice about the Enhancer System and explaining why it is the right solution for you. We also understand the psychological impact of hair loss. And we will endeavour to put you at ease when you visit our studio.
Get in touch with our hair loss experts today.
Do not hesitate and find the Hair Solved studio closest to you. Why not book your appointment now to find out more about the best hair loss solutions on the market Click here