Where can you find us?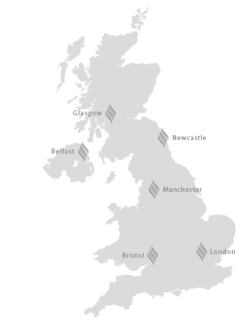 Hair Solved tries to be accessible to everyone who suffers from hair loss, no matter where they live and what was the cause of their hair thinning issues. That is why our esteemed Enhancer solution was designed – to conform to all your needs without needless risk. That is also why we try our best to open our Hair Solved studios in every region of the United Kingdom, so you don't have to add another expense – a long trip to London – to fight your hair loss. Where you can find us and consult your issues with our experts?
Our Head Office is in Manchester and was opened in 2007, but we offer our services for all inhabitants of the United Kingdom, thus we have opened other studios in the following locations:
As you can see, no matter where you live, you are pretty close to one of our Hair Solved studios, which means you can contact one of our female hair loss experts personally to get that individual hair thinning solution service, tailor-made just for you, right away. So do not hesitate and find the Hair Solved studio closest to you and book your appointment now to gain knowledge about the best hair loss solutions on the market.
Return to blog