Our National Hair Loss Survey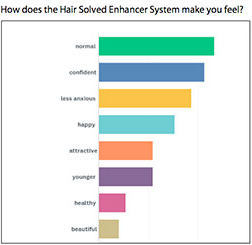 We're all a bit sceptical of surveys aren't we? Do the companies who ask for our opinions actually listen? Or take action as a result of what we have to say Well… we do.
We recently conducted a national survey, to ask our clients about hair loss, how it has affected their lives and what difference our solution might have made to the way they feel. We also invited women to tell us how they feel about our staff and the services we provide. The response to our survey was absolutely amazing, so a huge 'thank you' to everyone who took the time to share their experiences and opinions.
Over the coming months we'll be sharing your views in the blog section of our website and also telling you about the changes we'll be making as a result of your feedback.
We pride ourselves on the quality of our training, and the amazing team of caring and professional people here at Hair Solved, so it was very rewarding to hear that so many of you agree. "The girls do a great job, are always friendly and try and meet needs of customers as best they can", was just one of the many positive comments.
However, some of you weren't quite as positive about the drinks, refreshments and entertainment, such as magazines, we offer during your Hair Solved appointments. Our Enhancer System is designed to be fitted in less time than most comparable systems, but you can still be with us for between three and six hours. We want the Hair Solved experience to be as relaxing and comfortable as possible, so we're sorry to hear that our refreshments and entertainment have not always been up to scratch.
The comfort of our clients is incredibly important to us, so we're taking immediate action to improve in this area across all six of our salons. If you are a client of ours, we hope you'll experience some of these improvements on your future visits and we'll continue to monitor your feedback.
Make sure you follow us on add social media links or get in touch to make sure we have your email address so we can share more feedback with you.
Return to blog