WE DON'T JUST TRANSFORM WOMEN'S HAIR LOSS WE CHANGE LIVES

Rose's Story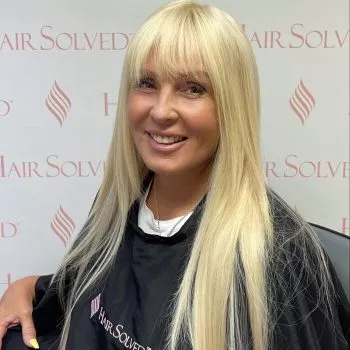 "I wish I had known that the system existed, I just didn't know that there was something for thin hair. Now I really love sharing my story because I want other women to know about it. I often put something on Facebook and think people must be sick of seeing this, but when something is so life transforming, you can't stop talking about it."
In December 2021, 60-year-old Rose had a bespoke hair system fitted at Hair Solved Bristol. The Rose that left the salon that day was very different to the person who had walked in a few hours earlier.
She felt attractive, confident, complete. As she says, "I felt like a woman for the very first time".
For most of her adult life, Rose has been unhappy with the way she has looked. Battles with her weight and feeling self-conscious about her thin, fine hair have affected her confidence and happiness. Being trapped in an abusive relationship also had a massive impact on Rose's self-esteem.
"Being overweight, being in an unhappy, abusive marriage, I never felt happy as a woman. I never felt worth anything."
Women lose their hair for many different reasons. In Rose's case, it was triggered by a series of traumatic life events.
One such life-changing event happened when Rose was forty and worked in the police force. It was a job she loved, but during a late night shift a violent assault left her with serious spinal injuries. Doctors feared she would never walk again.
However, with time and determination, Rose did learn to walk again. Losing weight was an important part of her recovery and also made her feel better about her appearance. However, the psychological impact of the attack meant she couldn't return to work.
"My hair started falling out because of the whole traumatic episode. It just took its toll on my body."
Sadly, it wasn't long before Rose experienced another trauma in her life, the sudden death of her brother. The devastation she felt was compounded by loss of yet more of her hair.
Knowing that she couldn't stay in a city which held so many bad memories, she decided to make a fresh start on the south coast with her two sons.
Taking control.
As a single mum, she was determined to take control of her life. At the time, she didn't think she could do anything about her hair, but losing weight was a different matter. That was something she had the power to control. Every month, Rose stuck to her plan with typical determination; ultimately losing an incredible 14 stone. In 2007 she was even named Slimmer of the Year 'runner-up'.
"When I saw the photo of me at the Slimmer of the Year awards, my hair looked thin and flat. Even though it had be styled by an amazingly talented celebrity hairdresser who added layers it still looked thin. I looked great in my size 10 dress, but my hair looked horrible. On one of the proudest days of my life, even the skills of a celebrity hairdresser couldn't make me feel good about my hair."
Losing weight gave Rose the confidence to start her own business, using her experiences to help other women with their weight loss. But there was still something missing.
"I was body confident when I lost all the weight. My new confidence enabled me to start my own business and get my freedom. But I was never fully happy with how I looked."
After everything she'd been through, Rose's hair remained the one thing that continued to hold her back in life. That was, until she heard about Hair Solved.
"Despite having had thin hair for many years I knew nothing about Hair Solved or the system. Then a client of mine told me about a relative of hers that had a system and now had the most beautiful hair. I searched the internet for Hair Solved, found the Bristol Salon and arranged an online consultation."
Rose was excited by the possibility of finally solving her hair loss problem.
Sadly she had to put her plans on hold while she went into hospital for weight loss reconstruction surgery. However, once again fortune wasn't on Rose's side.
"I contracted sepsis in early December 2021 after my weight loss reconstruction surgery. That's when my hair just fell out. I was at an all-time low. I begged one of my friends to take me to Hair Solved in Bristol."
Rose had lost the weight, escaped an abusive marriage, started a new life, and set up her own business. She had come a very long way, but when she walked into the Bristol Hair Solved Salon that day, it felt like the final piece of the puzzle.
"Emma worked her magic and fitted my new hair system that day. I looked at myself and thought 'I've done it'. It was the first time I truly felt like a woman. After 20 years of heartbreak, the hair was the final lift I needed."
Rose doesn't just love how her new hair makes her feel, she loves how natural it looks.
"It feels very natural, you really can't see anything. One day I washed it and just left it. My partner couldn't believe how it looked. He said, 'that looks amazing, I love your hair like that, it is just like a beach look'.
When we asked Rose what she was looking forward to most, "a holiday" was her immediate response.
"I would always get a burnt head on holiday because my hair was so thin. I would have to wear a baseball cap all the time. I'm looking forward to having a holiday. I am going to swim in the hotel pool, stand under the shower, condition it and then just let it dry. I can't wait to walk around with wet hair and no more baseball cap."
If you'd like to know more about the Enhancer System visit our helpful Hair Loss Solutions page.
Talk to us