Supporting the AUK Big Weekend 2019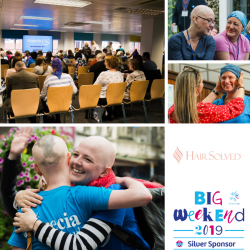 When I heard that the AUK Big Weekend 2019 was going to be held in Bristol this year I just couldn't wait to get involved and was particularly keen that Hair Solved would have some active involvement with this wonderful event. You can imagine how proud I am that Hair Solved are the Silver Sponsor of this year's Big Weekend right here in the heart of Bristol!
There are so many reasons why supporting this weekend is so important to Hair Solved.
When I opened the Hair Solved Salon in London in 2010 we had clients traveling to us from all over the region even from as far as the South West. So five years ago I opened our Bristol Salon in Clifton. This meant that women from across Bristol, the South West and Wales wouldn't have to add to the anxiety caused by hair loss by having to travel any further than necessary to have their system fitted and their maintenance appointments. We are so proud to have a Salon in Bristol now that can serve clients across the whole region. Another important reason for wanting to support the Big weekend is because I have been working in the Hair loss industry now for almost 20 years and during that time I have consulted and treated thousands of clients with Alopecia.
Everyone's alopecia story is different.
Everyone's alopecia story and journey is different but in many ways the same, at first they feel worried, stressed, embarrassed even angry that this has happened to them, many had never heard of alopecia or even know what it means. There is one client in particular that I remember so clearly. She came to see me in the very first year we opened, she was really nervous in the consultation and asked some strange questions which we still laugh about today!  She has been so amazing and inspirational, always has a smile and a positive attitude despite being affected by Alopecia for almost 10 years, this person has helped me in so many ways such as speaking to ladies who may be unsure about having the system for the first time.
The effect of this condition is not only physical but can lead to problems such as anxiety, loss of confidence, problems with employment and even personal relationships. I've had ladies tell me they do not want to leave the house and have become virtually reclusive because they feel so vulnerable because of their hair loss. Many women start to look for ways they can mask or cover up their hair loss and a hair integration system, like the Enhancer System is a perfect solution.
The Alopecia UK Event is a great place to find information.
Although the internet is a great source of information it can also be daunting and misleading especially if you don't know what you are looking for. The AUK Big Weekend – from the 27th to 29th September at the Marriott Hotel in Bristol – is a great place to start to get the information and support you will need and I am really looking forward to meeting everyone and showing how Hair Solved can help women with Alopecia who are looking for a hair replacement solution.
We will have consultants to chat to and current clients will be available to answer any questions and to demonstrate how the Enhancer System has improved their lives. What's more we can't wait to welcome you to the Hair Solved stand so come and say hello and find out more about our innovative and bespoke hair loss system.
You can even enter a fantastic prize draw! See you in Bristol.
Sally Forward
Regional Director, Hair Solved
To find out more about the event or for tickets on sale until 16 Sept, go to https://www.alopecia.org.uk/event/big-weekend
Return to blog